ClientArea Cacti Bridge
Show graphs to clients
Keep detailed port stats
Monitor your bandwidth
Charge transit overages
Find bandwidth abusers
WHMCS Cacti Bridge Module Overview
Cacti Bridge Client Area Template
Show your clients their BandWidth and Transfer usage (from cacti) within their WHMCS Client Area Product Details page - provides detailed daily and monthly usage figures for historical trending.
Cacti Bridge Admin Area Module
Integrated WHMCS Admin module gives you a quick-View of Daily and Monthly graphs - plus provides the detailled bandwidth/transfer usage figures.
Automated Overage Billing
Automatically updates WHMCS product tables daily with usage to use in-built overage billing capabilities.
Choice of methods figures to use for updating WHMCS internal values (used for billing overages) - pick between highest, lowest, average, in, out, total and 95th Percentile
---
WHMCS Cacti Bridge Module ChangeLog
18/08/2014
Added to cron-job configurable choice of bandwith usage updating

95%ile (default)
average in
average out
highest average out
highest average in
lowest average out
lowest average in
maximum in
maximum out

Added to cron-job configurable choice of transfer usage updating

total transfer
transferred in
transferred out
21/07/2014
fix for small amounts of transfer (bytes)
fix for apache newline problem
---
Cacti Bridge Client Area - Screenshot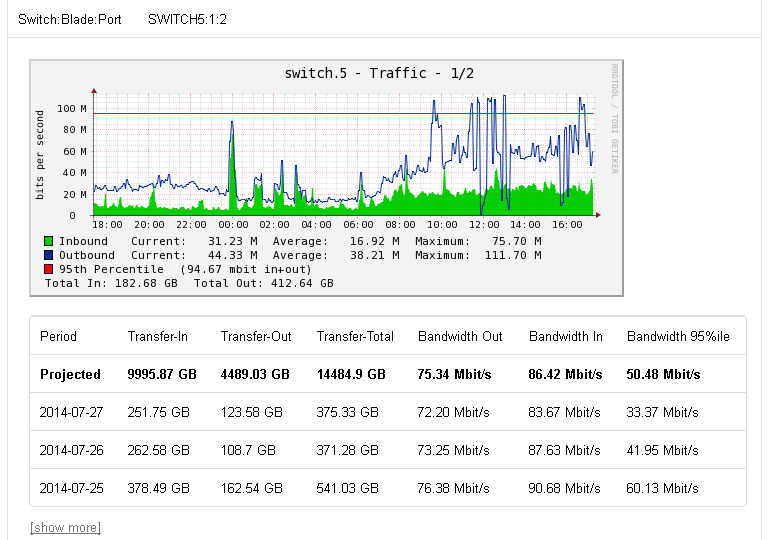 Cacti Bridge Admin Area - Screenshot